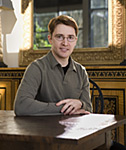 Employing tools and techniques of the 17th and 18th centuries, J&J Kettman produces custom, hand-crafted furniture inspired by the gallery collections of world-famous museums and auction houses.
To successfully replicate rare and significant antiques requires a combination of patience, skill and careful study. John Kettman, the company's primary artisan, received his formal instruction in furniture reproduction from two well-established schools: The Masterpiece School and the American School of French Marquetry. Yet he is constantly enlarging his awareness of the history of furniture by visiting museums and reading books and periodicals on the subject. Several of his preferred resources are listed under History of the Craft.
J&J Kettman is a family business, operated by husband and wife, John and Julie. Their dynamic talents blend to form a company offering individual attention to customers who desire true furniture masterworks and exceptional service. While Julie supports the communication and organizational aspects of the business, John works with customers to design and build furniture.